Tupira Embraces its Surfing Tradition
20th September 2018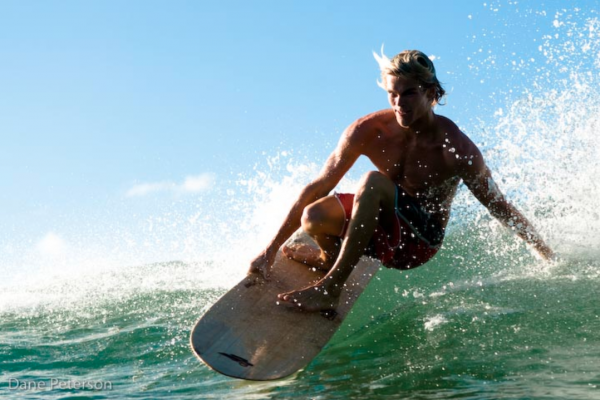 Original article by Thomas Alexander, Subcutanea 
At a small coastal village on the south coast of Papua New Guinea, villagers and the surfing community have united to ensure the tide of progress and westernisation does not wash away a proud history of craftsmanship and traditional surfing culture.
World renowned wooden surfboard maker Tom Wegener is among those working with the local community to stave off the march of western development and commercialisation. In a recent article in the Sirene Journal, he shared his insight into a project that looks to re-instill the traditions of Tupira on the world surfing stage.
 Tupira
Situated on the pristine Ulingan Bay of Madang Province, Tupira has managed to elude the continual march of progress.
The traditional township still utilises many traditional methods, growing its own food, hand-carving fishing canoes and subsisting contentedly, without power, television, shopping malls or iPhones.
A Surfing Tradition
When surf tourism found this humble outpost, there was notable cause for concern. Tupira didn't want to be the next Kuta Beach or high-profile, mass-tourism, surf destination.
Like their Polynesian cousins in Hawaii, the Tupiran people had been surfing the reef break in front of their village on handcrafted wooden boards for hundreds of years but, with the influx of surf tourists, this ancient practice was being lost.
Visitors were generously leaving their boards behind for the children to surf, but this gesture of goodwill was undermining local tradition and the younger generations were losing interest in their own past.
With no access to fibreglass and resin, hand-me-down boards could not be fixed. Wooden boards, on the other hand, are made from the sustainable resources readily available and come with a tradition of pride and craftsmanship.
A Project to Reignite Passion
With this threat to their history, Tupira Surf Club manager Nicki Wynnychuk and the club's patron, Justice Nicholas Kirriwom, invited Tom and fellow timber surfboard shaper Bryan Bates to come and share their passion and knowledge with the village in a bid to reignite an enthusiasm for timber surfboards in the younger generations.
It was a learning curve on both sides. While villagers were keen to put tradition to use, Bryan and Tom found the youngsters, while intrigued, lacked enthusiasm, and the traditional hard-to-master finless alaias were soon cast aside for the far more user-friendly foam boards.
The challenge was to create a board which sparked as much interest and was as simple to master as foam boards while still embracing the handcrafted traditions of Tupira.
Their solution came in the form of balsa.
The World Surfing Stage
In 2017, Tupira hosted its first ever World Surf League Longboard Championships, bringing internationally renowned surfers to the township.
In advance the entire Tupira community worked with Tom and Bryan to create boards they could display and surf for the WSL entourage and be truly proud of.
Cognisant of the village's surfing tradition and efforts to embrace its history, the World Surf League incorporated a local's competition along with the pro-am event.
A local crowd of 5000 people watched as the pro surfers paddled out on the boards that the local community had made by hand themselves and surfed them convincingly all afternoon. From now on, every event at Tupira will have a wood surfboard division, to keep their culture alive.
Tom notes against all odds, and almost every example of commercial influence before it, Tupira has achieved what few have – they rebuffed globalisation with culture, identity and sustainable, local materials, utilising the WSL to justify, validate and celebrate their ways.
"Gracious hosts to the last, they welcomed the contest behemoth to their land, but it was on their terms," he says.
The board shapers now plan on returning to Tupira to continue their work with the villagers and to expand the viability of the timber boards. Returning at the end of this year, Bryan intends to refine and perfect three specific models, providing the locals with high-quality surfboards and developing a sustainable income through sales of the models to the visiting international guests at Tupira Surf Club.
His vision is to establish an environmentally viable surf industry that will further support the region through surf tourism.