One Day in Madang
9th August 2018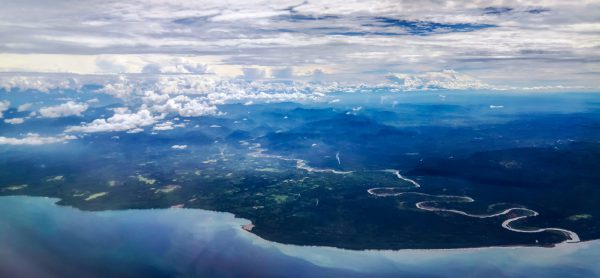 Once labelled the prettiest town in the Pacific, Papua New Guinea's Madang offers a picturesque destination with a wealth of activities to enjoy.
From snorkeling to a walk-through wartime history, here are tips on the sights, the sounds and the seminal activities to explore during one day in Madang.
Sunrise at Coastwatcher's Memorial Beacon
A majestic sunrise over the ocean starts off the average day in Madang, and there are few better places to enjoy it than from a memorial that is testament to the town's wartime history.
The Coastwatcher's Memorial Beacon stands watch over the Astralabe Bay. Visible from up to 25km out to sea, it is a reminder of those who bravely remained in Madang during WWII, reporting Japanese troop and ship movements.
To the south of the memorial is a 3km beachfront road that offers views across the bay and a pleasant seaside morning walk.
The Reef Awaits
The reef is one of Madang's major drawcards and there are a wealth of charter boats and tour operators ready and willing to help you explore.
Fishing, diving and snorkeling are the main activities on offer, while island hopping and canoeing are also popular pastimes.
When it comes to dive and snorkeling sites, Madang Harbour serves up some unique delights with war relics, an underwater mountain, fish, and beautiful coral on offer.
The nearby islands of Kranket, Siar and Saimun offer the opportunity to embrace the tropical lifestyle. All have accommodation or can be accessed for a day trip and are perfect for swimming, picnicking, snorkeling and canoeing.
A Quick Repast
After a morning spent embracing the waterfront wonders of Madang a well-deserved meal awaits. Among the most popular venues is the Waterfront Bar and Restaurant where you can take in the further waterside ambience while enjoying a Polynesian and pizza menu.
A Cultural Afternoon
Come the afternoon, it's time to enjoy some of Madang's unique culture. The township dates back to the 19th century when it was first settled by the Germans. Now it also boast's a university and has become an attractive base for ex-pats.
But if you're looking for PNG culture, the Madang museum is a great place to start. Small but fascinating, the museum features tribal artefacts such as ceremonial headdress, and also explores the 1660 eruption of Long Island.
Back to Nature
Flying foxes have been resident locals of Madang since the 1970s, and chances are you'll catch sight of them during your stay.
If you're seeking to enjoy the further natural attributes of the region, then the orchid collection at Madang Resort Hotel features an array of flora along with wildlife like cuscuses, hornbills, cockatoos and tree kangaroos.
Meanwhile a visit to Kau Rainforest Museum 20km outside Madang is well worth considering. Run by the Didipa Clan, this small remnant of rainforest offers an insight into traditional knowledge and environmental education.
About Paga Hill Estate
Paga Hill Estate is a world-class, master-planned estate in the heart of Port Moresby, Papua New Guinea. The waterfront site is the first comprehensively planned multi-use development in Papua New Guinea to be enjoyed by both residents and visitors alike.
The all-inclusive development will include vibrant public spaces and waterfront promenade, luxury hotels, residential apartments, restaurants, retail, commercial space, a Trade, Exhibition & Cultural Centre, restoration of WWII relics, marina precinct and a nearby international cruise liner terminal.