Tradition & Community at the Heart of Tupira Surf Club
26th July 2018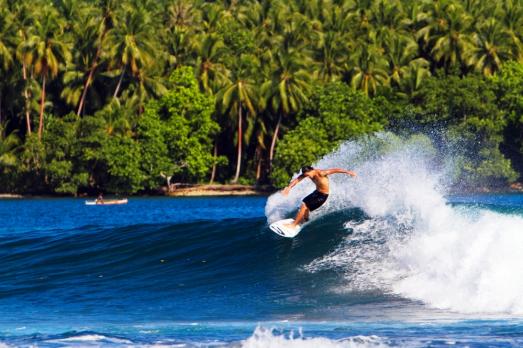 Around 180km from the township of Madang in Papua New Guinea, Ulingan Bay features some of the most consistent surfing swell in the country.
It's also home to the province's only surf club – a place where the needs of the community and the rediscovered local culture of surfing truly meet.
Here's an insight into Tupira Surf Club, and the story of how one man's vision is transforming a small community in PNG.
Tupira Surf Club
Established in 2008, Tupira Surf Club sits overlooking the majestic ocean of Ulingan Bay. Three hours' drive from Madang airport, it is a place created not just to accommodate world-class surfers seeking out the perfect break, but also to sustain the local community.
Tupira is a collective enterprise and community development initiative that is owned and operated by local villagers and is now gaining the attention of local and international surfers alike.
The Man Behind It
The concept of a community-minded surf club was first devised by the township's local law enforcer Justice Nicholas Kirriwom.
World Surfaris explains the surf club grew from Nicholas' desire to help his village and the surrounding communities with a sustainable, income-producing initiative.
He provided the seed money and also met the shortfall in running costs during the club's formative years.
Coming of Age
Only nine years after its establishment, Tupira Surf Club truly came of age in 2017 when it hosted the World Surf League Longboard event. The competition saw 54 male and female competitors travel to Tupira, with many enjoying their first ever surfing experience in PNG.
Now the destination has also been tentatively flagged as the site for the Kumul PNG World Longboard Championships in late October this year.
Reclaiming Surfing Culture
In addition to establishing itself as a surfing destination, Tupira is also reclaiming some of the ancient surfing culture of PNG.
The ABC explains that in 2015, local villagers were offered workshops in the art of crafting Hawaiian-style longboards out of local balsa trees.
Andrew Abel, who founded the PNG Surfing Association 28 years ago, told the ABC the workshop was a reminder that surfing in PNG dates back hundreds of years.
He visited many communities where village elders shared oral history of how young children had boards crudely carved out of 'splinters' from broken canoes and felled trees.
"So, what we've essentially done is taken those ancient belly boarding skills and enhanced them with the modern surfboards of today," Mr Abel said.
"They're very difficult to ride but a lot of the lightweight kids had no trouble whatsoever in hopping onboard and ripping those waves up in Tupira.
Mr Abel said he hoped the surfboard shaping training would be the catalyst for a new era in PNG surfing.
"It enables them [local surfers] to capitalise on the balsa wood timber that's in abundance in the jungles of Papua New Guinea … that they can use to surf but also sell to tourists and raise money for their respective families."
About Paga Hill Estate
Paga Hill Estate is a world-class, master-planned estate in the heart of Port Moresby, Papua New Guinea. The waterfront site is the first comprehensively planned multi-use development in Papua New Guinea to be enjoyed by both residents and visitors alike.
The all-inclusive development will include vibrant public spaces and waterfront promenade, luxury hotels, residential apartments, restaurants, retail, commercial space, a Trade, Exhibition & Cultural Centre, restoration of WWII relics, marina precinct and a nearby international cruise liner terminal.