Flowers A Blooming Business in PNG
12th July 2018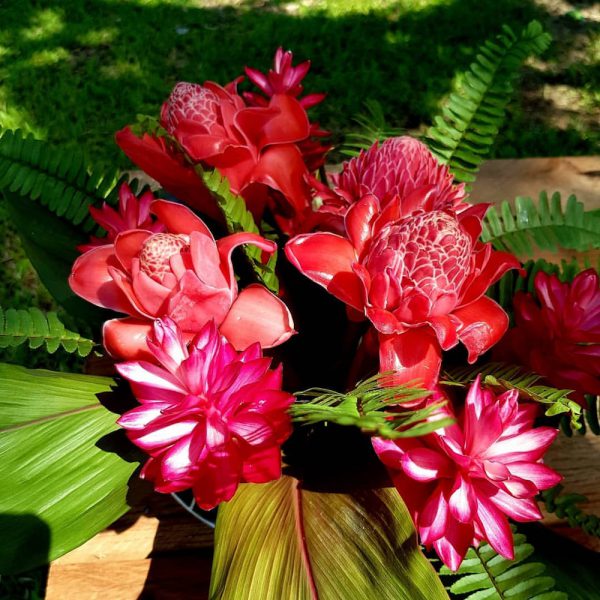 Bright, beautiful and available in abundance, flowers are part of the varied and spectacular landscape unique to Papua New Guinea. And increasingly, these flowers are being cultivated by small-scale farmers to offer a source of income to families across the nation.
This year the National Botanical Gardens in Lae celebrated the emerging industry of floriculture with a flower show, and in the wake of its success it is set to become an annual event. It now joins a host of flower-focused events that take place throughout PNG each year.
Here's an insight into PNG's flower shows and why they're indicative of a floriculture industry that could be set to bloom.
The Lae Flower Show
In May this year, the Lae Botanic Gardens hosted its first ever flower and garden show, drawing small-scale farmers and women's groups to showcase the flowers, plants and flower-arranging talents of an emerging floriculture industry.
The inaugural three-day event was the first of its kind for the city and attracted an array of exhibitors spanning categories of flowers and fauna, trees and shrubs, vegetation and herbs, cut flowers and floral arrangements, and photography.
Backed by corporate sponsors, the event was hailed a success and has now been given the green light to become an annual fixture on the calendar. Meanwhile, the botanic gardens will become the home of the flower and garden Show, and the main market for flowers in the city of Lae.
Flower Shows an Emerging Trend
The Lae Flower Show joins a burgeoning list of flora-focused events taking place across PNG. Each year in May Port Moresby also hosts a flower show, with flower farmers across the country invited to take part.
Run by the PNG Cut Flower Association, the event has been an annual fixture for almost a decade and showcases the country's diverse and beautiful flowers.
In Goroka, a similar three-day event is held in June. It not only highlights the region's unique flowers and plants but celebrates an industry with the potential to generate income for the local community, in particular women.
Floriculture in PNG
Floriculture is an industry with the potential to generate a viable income in many sectors of PNG. The unique flowers of the region, such as orchids and birds of paradise, are sought after domestically for celebrations and events.
This has seen the industry become a focus in recent years, with small-scale farmers encouraged to take up floriculture as a small to medium enterprise.
It's an activity that's easy to undertake, doesn't require major clearing of land and is environmentally sustainable.
Importantly, it's also a business opportunity that promotes the idea of women in business as women by and large are the primary growers of flowers in PNG.
 About Paga Hill Estate
Paga Hill Estate is a world-class, master-planned estate in the heart of Port Moresby, Papua New Guinea. The waterfront site is the first comprehensively planned multi-use development in Papua New Guinea to be enjoyed by both residents and visitors alike.
The all-inclusive development will include vibrant public spaces and waterfront promenade, luxury hotels, residential apartments, restaurants, retail, commercial space, a Trade, Exhibition & Cultural Centre, restoration of WWII relics, marina precinct and a nearby international cruise liner terminal.