The Incredible Photography of PNG
2nd July 2018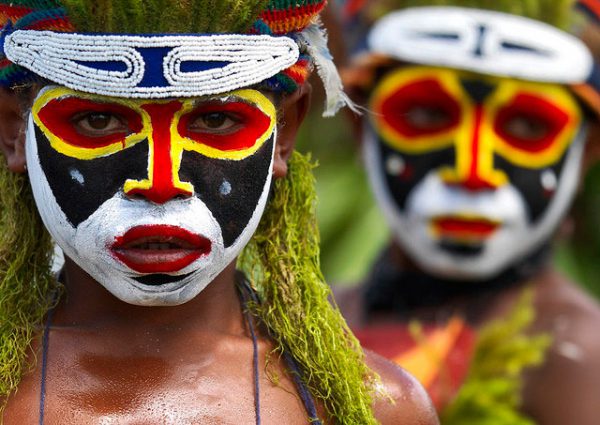 With spectacular flora and fauna, stunning natural landscapes and vibrant culture, Papua New Guinea has long been an alluring destination for avid photographers looking to capture the vivid beauty of a truly unique destination.
PNG is a visually compelling place where images offer the opportunity to reflect a nation of near untouched natural landscapes and ancient tribal traditions, and there are a host of photographic tours available for those looking to embrace their photographic skills.
Here's an insight into the incredible photography of Papua New Guinea.
Landscapes
From the vivid green of foreboding rainforests to the azure blue of the coastline and the stark ferocity of rumbling volcanoes, PNG serves up a stunning array of natural landscapes destined to delight the seasoned and novice photographer alike. This is a place where vibrant birds of paradise are set against misty mountain backdrops, and where globalisation is yet to affect many natural regions of the country.
People
While the landscapes of Papua New Guinea offer a spectacular subject, perhaps it is the people and ancient traditions that attract the most ardent photographers looking to catch a timeless moment on film. Across the nation, many tribes still celebrate and mark their customs at festivals such as the Goroka Show.
Face painting, mud masks and crocodile style skin markings are just some of the subjects made famous by photographers in PNG.
Famous Images
Among the photographers famous for their images of Papua New Guinea is Eric Lafforque. The French national has captured countless images of the people of PNG, exploring the vibrancy of their culture.
His images showcase traditions such as those of the Huli Wigmen, Asaro Mudmen, and the Chambri Tribe's crocodile men.
Meanwhile, renowned Australian landscape photographer Christian Fletcher revels in the country's spectacular scenery with an array of stunning images that capture the light and landscape of PNG. His serene imagery includes photographs of volcano craters, stark white beaches, and remote tropical islands.
Tours
There are a wealth of organised photography tours available for travellers wishing to capture spectacular images of PNG. Hosted by renowned masters of their craft such as National Geographic freelancers and award-winning photographers, these purpose-designed photography expeditions provide access to both stunning destinations and a variety of traditional culture throughout the nation.
Many also offer tips and tutorials throughout the adventure, providing novice and seasoned photographers with the opportunity to hone their craft while experiencing the true beauty and warm welcome of the picturesque destination that is PNG.
About Paga Hill Estate
Paga Hill Estate is a world-class, master-planned estate in the heart of Port Moresby, Papua New Guinea. The waterfront site is the first comprehensively planned multi-use development in Papua New Guinea to be enjoyed by both residents and visitors alike.
The all-inclusive development will include vibrant public spaces and waterfront promenade, luxury hotels, residential apartments, restaurants, retail, commercial space, a Trade, Exhibition & Cultural Centre, restoration of WWII relics, marina precinct and a nearby international cruise liner terminal.