BEST TRIPS & TOURS OF 2018
29th March 2018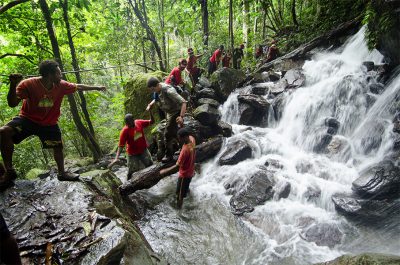 Whether you're seeking nature, culture or history, Papua New Guinea offers up an array of tour options to delight the intrepid traveler. Each affords guests the opportunity to witness the spectacular beauty of a country fast emerging as a prime tourist destination.
If you're looking for a holiday with a difference in Papua New Guinea, these are the best trips and tours of 2018.
The Kokoda Trek
For many Australians, the Kokoda Trail is synonymous with Papua New Guinea. It represents a turning point in WWII where Australian forces were able to reclaim vital territory captured by the Japanese.
It was a bitter campaign, fought in the formidable conditions of the PNG jungle between July and November 1942. Ultimately after suffering heavy casualties on both sides, Australian forces managed to recapture Kokoda on November 2, and today it remains a testament to the bravery, tenacity and sheer will of the ANZACs.
Australian former serviceman Charlie Lynn now leads a series of treks along the Kokoda Trail as part of his company Adventure Kokoda. Each offers the opportunity to experience and understand the Kokoda Trek, with a range of budgets catered to.
The Goroka Show
Every September, Goroka, the capital of the Eastern Highlands Province comes alive with sights, sounds, colour and song as over 100 PNG tribes gather for the incredible cultural festival that is the Goroka Show.
Classed as a once-in-a-lifetime opportunity, this massive Sing-sing showcases tribal music, dance and culture, has a history that dates back to the 1960s, and is PNG's largest cultural event.
A host of tour companies, including Peregrine Adventures and Papua New Guinea Holidays, afford the opportunity to explore Papua New Guinea with tours culminating at the Goroka Show.
Fishing
Featuring over 600 islands, 5150km of coastline and pristine waterways, Papua New Guinea is renowned as an angler's paradise. From the monster catches of the wild rivers to the wrasse of the blue water, fishing tours are becoming an increasingly popular tourism drawcard for PNG.
Sport Fishing Papua New Guinea offer both blue water and wild river fishing adventures, with destinations including the Aramia River, Papuan Coast and Egum Atoll.
Papua New Guinea Mask Festival
If you're looking to enjoy the nature, scenic beauty and culture of Papua New Guinea in one action packed tour, then Intrepid Traveller's Papua New Guinea Mask Festival tour offers it all.
This tour takes the road less travelled encompassing active volcanoes, village culture and wartime history before culminating in the National Mask Festival – a spectacle of song and dance, rhythm and drama, costume and colour.
With its relatively untouched coastline, PNG also serves up a smorgasbord of watersport options, many of which are encompassed as part of tours. Diving and surfing are among the most popular activities, and Papua New Guinea Holidays offers tours to accommodate each.
Birdwatching
Bright, brazen and downright beautiful, the birds of Papua New Guinea attract avid birdwatchers from around the globe. For those seeking a fully immersive birdwatching experience, companies like Rockjumper Worldwide Birding Adventures have tours that range from five to 18 days in duration and cover all the prime birdwatching sites such as Mt Hagan, the Tari Valley and more.
Paga Hill Estate is a world-class, master-planned estate in the heart of Port Moresby, Papua New Guinea. The waterfront site is the first comprehensively planned multi-use development in Papua New Guinea to be enjoyed by both residents and visitors alike.
The all-inclusive development will include vibrant public spaces and waterfront promenade, luxury hotels, residential apartments, restaurants, retail, commercial space, a Trade, Exhibition & Cultural Centre, restoration of WWII relics, marina precinct and a nearby international cruise liner terminal.