Pristine Paradise Preserved in PNG's National Parks
27th November 2017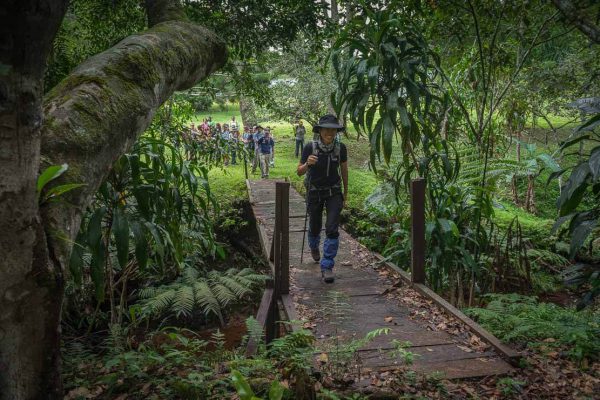 Known for its natural assets, Papua New Guinea remains a paradise almost untouched by the modern world. Yet even within this pristine environment, there are further havens to behold and explore.
A vast portion of Papua New Guinea has been set aside as an example of this preserved paradise.
These are the National Parks of Papua New Guinea and the unique assets they offer…
PNGs National Parks
Papua New Guinea features large tracts of land that have been dedicated as National Parks or wildlife sanctuaries, offering a wealth of unique opportunities and adventure for intrepid tourists to explore.
From volcanic regions, to coastal oases, they encompass the finest examples of untouched landscapes, biodiversity, flora and fauna. With such a vast array to choose from, here are 10 that are considered among the best.
Central Province and Port Moresby
Varirata National Park
Located just a 30-minute drive into the mountains near Port Moresby, Varirata offers spectacular misty mornings, bird watching, waterfalls and an insight into Koiari Culture.
With grassy walking trails, barbecue areas, camping and picnic facilities, it features natural plant and animal species, views from Sogeri Plateau over Port Moresby, and a traditional Koiari tree house.
Moitaka Wildlife Sanctuary

Situated on the outskirts of Port Moresby, Moitaka Wildlife Sanctuary specialises in the study of crocodiles but also houses a mini zoo with further native animals and birds.
The facility acts as a research and education facility that protects endangered species. It is open to the public with an information centre and outdoor recreation facilities.
Port Moresby Nature Park
As a refuge from the hustle and bustle of the city, Port Moresby Nature Park features over 250 native animals including birds of paradise, cassowaries, kangaroos, snakes, crocodiles and parrots.
Thousands of tropical plants are also on display, such as ginger, palms heliconias and native timber species.
Kokoda Trail

The historic Kokoda track has now been granted National Park status in a bid to protect and preserve this 96-kilometre trail. Over 4000 hikers take on this challenging trek each year, which includes features such as the 2190m high Mt Bellamy, and natural rainforest.
Eastern Highlands Province
Mt Gahavisuka, Goroka
With beautiful scenery and spectacular views, this national park is located on a mountainside 11km from the provincial capital of Goroka.
The park is renowned for its rhododendrons and mountain orchids and features clearly marked walking trails, picnic facilities, an information centre, and two orchid houses.
Morobe Province
McAdam National Park
Native Hoop and Klinki Pine varieties still remain within the large precinct, which also features an outdoor recreation area and scenic walking tracks.
Western Highlands Province
Baiyer River Sanctuary, Mt Hagen

Featuring a guest lodge, barbecue facilities and laboratory, Baiyer River Sanctuary was established in 1968 for the protection of endangered species of wildlife fauna and to encourage breeding whilst in captivity.
The park is located north of Mt Hagan and renowned for its colourful birds of paradise.
West New Britain Province
Pokili Wildlife Management Area
Protected since the 1970s, Pokili Management Area is famed for its thermal activity. It features hot springs, geysers and boiling mud pools, and is a prime location for scrub fowls who use the warm earth to hatch their eggs.
Southern Highlands
Lake Kutubu National Park

Designated as a wetland of international significance, Lake Kutubu is located 50km southwest of Mendi. It is Papua New Guinea's second largest lake and the largest body of water in the highlands.
This tranquil region provides a refuge for birdlife, butterflies, reptiles, turtles and 13 species of endemic fish.
Wasi Falls Wildlife Management Area

With the country's largest waterfall that plunges 100m into the basin below, Wasi Falls is known for its picturesque waterways, pristine rainforest and rich array of birds and wildlife.
Paga Hill Estate is a world-class, master-planned estate in the heart of Port Moresby, Papua New Guinea. The waterfront site is the first comprehensively planned multi-use development in Papua New Guinea to be enjoyed by both residents and visitors alike.
The all-inclusive development will include vibrant public spaces and waterfront promenade, luxury hotels, residential apartments, restaurants, retail, commercial space, a Trade, Exhibition & Cultural Centre, restoration of WWII relics, marina precinct and a nearby international cruise liner terminal.