Art and tribal artefacts of PNG – Part 2
4th August 2017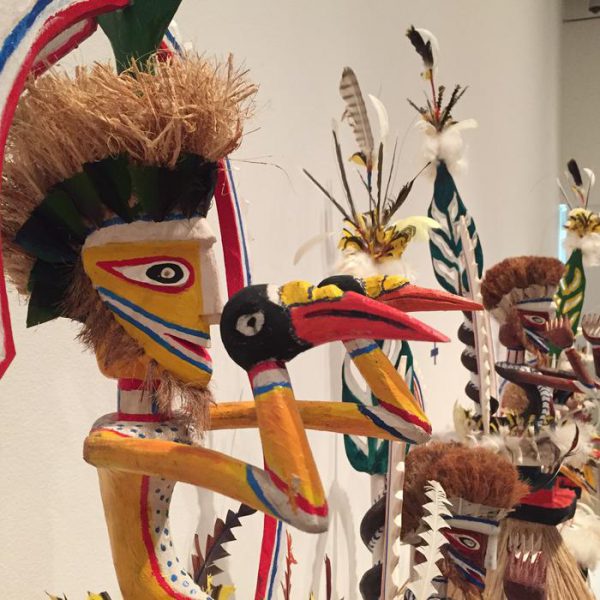 PNG is home to some wonderful traditional tribal artwork and artefacts. But it also has a strong presence in the contemporary art world. In this second post in our 'Art and tribal artefacts of PNG' series, we feature a few of these inspirational artists and give you some insights into their influences and backgrounds.
Sir Mathias Kauage
Mathias Kauage is arguably the most well-known PNG artist in recent times having won worldwide acclaim for his works. A self-taught artist, he won the renowned Australian 'Blake Prize for Religious Art' in 1987, held a stellar London solo show in 2005 and also had four of his pieces showcased in the Glasgow Museum of Modern Art. He was also awarded an Order of the British Empire in 1998 for his services to the arts. His drawings and paintings were heavily influenced by his own experiences of colonial history, sometimes portraying controversial themes. His signature style was his use of colour, creating a vibrancy that appeared to jump off the canvas. Mathias passed away in 2003, but his legacy lives on in many places throughout the world including in his homeland of PNG.
Image via Paddy OBrien
Timothy Akis
Like Mathias, Timothy Akis was another PNG artist who enjoyed celebrating his Indigenous heritage in his contemporary artwork. Best known for his pen and ink drawings, Timothy was continually inspired by PNG's flora and fauna creating many pieces reflecting a wide range of animals and plant life. His artwork was featured in galleries around the world, from Australia to Switzerland to the United States and of course, at home in PNG. He was extremely talented in producing a proliferation of artwork in in a short amount of time. Sadly, he passed prematurely at the age of 40 but again, his wonderful artwork continues to shine in art galleries around the globe.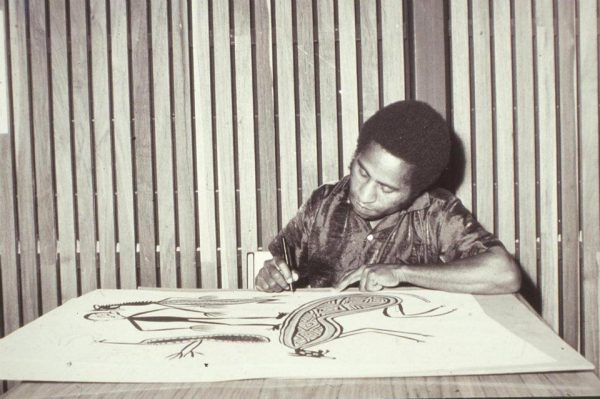 Akis drawing at the Creative Arts Centre 1973 Image via PNG Contemporary Art Library
Ruki Fame
Ruki Fame certain lives up to his surname when it comes to the world of art. He is believed to be PNG's first metal sculptor. He began his career as a welder but was 'discovered' by an Australian expat artist who was attracted by his ability to create amazing artwork using metals such as iron. He went on to train at the National Art School in PNG and soon forged his way into a new career as a metal sculptor. He's created major art sculptures for the University of PNG and the Agricultural Bank but also exhibited at museums in Australia and Switzerland. Of his work, Rumi says he prefers to create using his imagination as his guiding stick and doesn't sketch his pieces first. He just puts pedal (or should we say hands!) to the metal and sculpts, sometimes for 12 hours a day. While his artwork may be considered contemporary by many, his style is very much traditional and based on the stories of PNG, its people and native wildlife.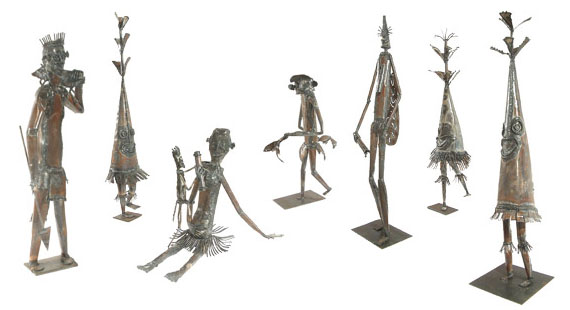 Image via Alcheringa Gallery
These are but a few of PNG's most celebrated artists. Of course, there are hundreds – if not thousands more, both discovered and undiscovered in this beautiful land. Take the time to explore them by visiting the art galleries of Port Moresby or venture further out to the villages where you'll encounter many more unique and traditional art forms. No matter what your artistic taste, PNG surely has something to suit!
Continue reading more on Papua New Guinea's art and artefacts in Paga Hill Development Company's CEO Gudmundur 'Gummi' Fridriksson's latest blog here.
Paga Hill Estate is a world class master planned estate in the heart of Port Moresby, Papua New Guinea. The waterfront site is the first comprehensively planned multi-use development in Papua New Guinea to be enjoyed by both residents and visitors alike. The all-inclusive development will include vibrant public spaces and waterfront promenade, luxury hotels, residential apartments, restaurants, retail, commercial space, a Trade, Exhibition & Cultural Centre, restoration of WWII relics, marina precinct and a nearby international cruise liner terminal.
Feature image via SBS