Christmas in the Tropics
24th December 2016
Tis the season to be jolly in tropical PNG! The Christmas spirit is well and truly alive in many parts of Papua New Guinea, and it offers a retreat away from the long, cold wintery nights that many of the Northern hemisphere folk would like to take a break from. You won't be sledding down snowy mountains here or warming toes by the fire. Instead, you can enjoy the same Christmas joys but be swimming in the warm oceans or learning to weave baskets in one of the popular marketplaces. Christmas in PNG is for those wanting sunshine and relaxation with a side of spiced egg nog.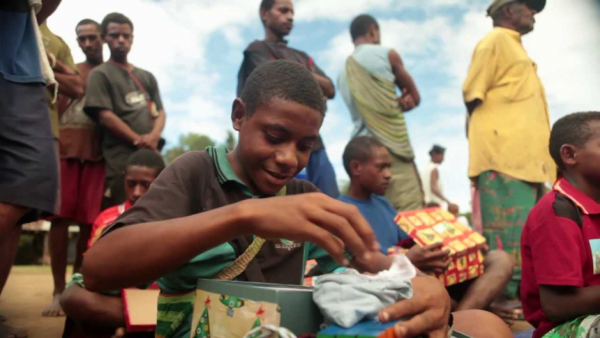 Christmas arrived in PNG with the missionaries in the 1830s and each year it becomes more and more popular. Many of the locals have adopted Christianity, and so Christmas was introduced as one of the main festivities on the Christian calendar. This joyful tradition has been warmly welcomed, and all around PNG angelic voices can be heard singing well-known carols and the twinkle of tinsel adorns homes and restaurants.
Travellers and expats living away from their homeland no longer have to miss the smell of pine and cinnamon at this time of year as Hotels are offering elaborate Christmas lunches and dinners as well as beautiful Christmas hampers and goodies. On Christmas day the Airways Hotel are dishing up Christmas Lunch and dinner at their Vue restaurant, with a special visit from Santa and presents for the children. Live music will set the festive mood for a merry night for all.
Bacchus restaurant is putting on a stunning Christmas day degustation lunch with the added touch of a glass of Moet on arrival, and it too will have a visit from Santa and his gift sack.
Deli KC is offering not only a three-course Italian lunch on Christmas day but also beautiful hampers that can be purchased filled with festive goodies.
In some villages, this time of year is highly regarded, and the birth of Jesus is celebrated more than the notion of Santa and gift giving. They celebrate Christmas with big family gatherings, parties and of course speciality foods. Traditionally they may eat Pork that has been roasted in a mumu (an earth oven), and it will be served with vegetables such as sweet potato. Some villagers like to decorate with flowers and treasures from nature and sing traditional Christmas carols.
Many of the churches in PNG will hold Christmas services that will have all of the much-loved readings and songs of our favourite time of year, and good wishes will be exchanged.
Paga Hill Estate would like to warmly wish you all a very Merry Christmas and hope that your day is filled with Christmas festivities, joy and peace.
Paga Hill Estate is a world class master planned estate in the heart of Port Moresby, Papua New Guinea. The waterfront site is the first comprehensively planned multi-use development in Papua New Guinea to be enjoyed by both residents and visitors alike. The all-inclusive development will include vibrant public spaces and waterfront promenade, luxury hotels, residential apartments, restaurants, retail, commercial space, a Trade, Exhibition & Cultural Centre, restoration of WWII relics, marina precinct and a nearby international cruise liner terminal.