26th October 2016
Tagua residents, Sent and Molly Raim together with their four children celebrated the completion of their newly built home at Tagua, Six Mile, Port Moresby, in early September. The event marked the achievement of a long-time dream to own their own home on their own block of land. Previously on Paga Hill, the family lived in a WWII bunker alongside other families. Community residents, Paga Hill Development Company (PNG) Ltd staff, and other guests where there to help celebrate this significant milestone.
In mid 2014, the family alongside other Paga Hill settlers resettled at Tagua (the 14ha site acquired by Paga Hill Development Company) and took up the company's offer to have tenure in their own plot of land with access to facilities not available to dwellings at Paga Hill, such as power, water and sanitation.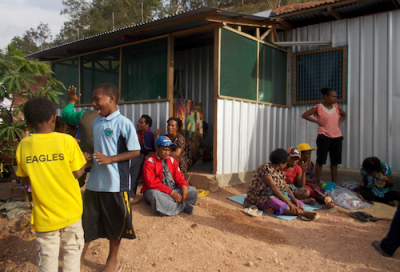 After the official handover of the Tagua site on 1 October 2014, the Raim family, along with each of the resettled households, signed an individual Land Use Agreement which provides secure household tenure over their own plot of land.
The family started building the house towards the end of 2015 and moved in at the start of the September. Paga Hill Development Company supported the family in developing their land through small incentives such as providing building materials and tools.
PHDC CEO, Gudmundur (Gummi) Fridriksson congratulated the Raim Family on their new home and said,
"I am very happy for the Raim Family. Two years ago, at the official handover, I said it's a new beginning for households that could lay the foundation for better things to come for each family and their children. Today's event is a clear demonstration of this."
As one of the first households from the resettled Paga Hill community to build and move into their own house, the event also marks a historic milestone for the broader Tagua community.
PHDC Director, Stanley Liria advised,
"It has inspired more families at Tagua to start or continue with building their own homes on their own plots of land. People now see what's possible to achieve."
Gudmundur Fridriksson advised that Paga Hill Development Company would continue to provide small incentives such as building materials to households at Tagua as a means to reward and encourage families who are in the process of developing their own block of land.
The Raim family now plan to fence their property and install a new water tank, donated by Paga Hill Development Company, on their land.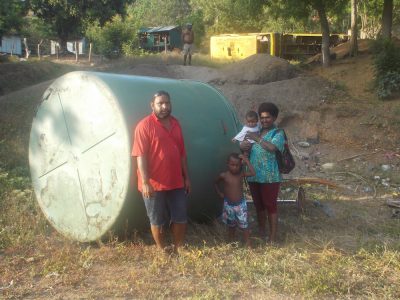 Sent and Molly Raim, together with their children