Paddling Paradise
10th October 2017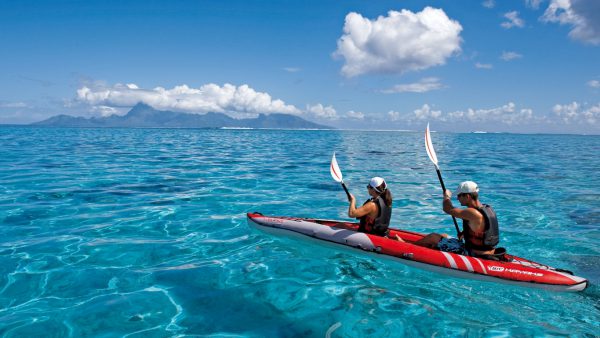 Imagine a place where people still live as they did hundreds of years ago, a place where tradition and culture are richly embedded into everyday lives. Imagine a place where pristine waters gently kiss the stretches of empty white shoreline, a place that is teeming with sea life and corals of unimaginable colours. Imagine a place that is rugged, wild and full of remarkable wildlife, a place where strange creatures hop, fly, rustle and creep, a place so full of life, diversity and adventure that it is practically calling you to explore it. This place is Papua New Guinea (PNG) and one of the best ways to get up close and personal with all this country has to offer is by kayaking.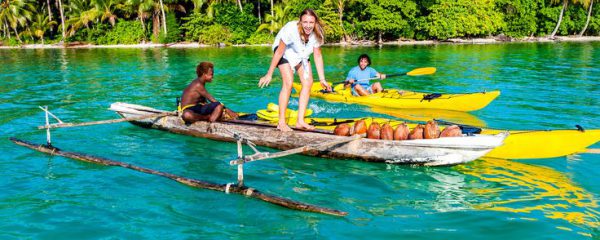 Not only is Kayaking fun, great exercise and accessible to all ages but it is undoubtedly one of the best ways to get in touch with nature. When it comes to kayaking in PNG, it affords you the ability to not only get closer to nature but to access the often inaccessible, uninhabited and remote places. With close to 600 different Islands of PNG, kayaking is a unique and scenic way to explore the breathtaking beauty on offer. PNG tour operators offer kayaking tours along the coastlines of New Ireland Province, Madang Province, East New Britain Province and the fjords of Tufi.
The Tigak area of north-west New Ireland Province is a one-and-a-half-hour flight from Port Moresby but literally a world away from the bustling commercial hub. Known for its excellent surf breaks and incredible diving, this long chain of Islands stretching from New Ireland to the east coast of New Hanover is also the perfect spot to sea kayak. Crystal clear waters, magical coral and an abundance of sea life surround these stunning islands. These beautiful islands are inhabited by friendly locals who live their traditional lives largely off the sea. While some of the Islands are quite large and produce an abundance of fruits and vegetables, others are no bigger than a football field. Paddling in a kayak from one island to the next stopping to meet friendly locals is an incredible opportunity. Don your snorkel and goggles, jump off your kayak and you will literally be witnessing some of the world's best sea life including a myriad of bright, colourful coral. Regardless of the tour operator you decide to book with, it's highly likely that come meal time you will be feasting on the freshest fish and seafood you'll ever encounter, in fact, you may even be able to throw a rod over the side of your kayak and catch the meal yourself.
For adventurers, nature lovers and just all round water enthusiasts, a kayaking trip around PNGs fjords of Tufi is a must do. Tufi is a remote region located at the tip of Cape Nelson in Oro Province. As one of the most isolated places in PNG, this little slice of heaven is only accessible by sea or small aeroplane. The pristine waters are abundant with large coral outcrops and shelves just waiting to be explored. But it's the fjords of 100 metres deep surrounded by lush tropical rainforests that make kayaking this area absolutely magical. The environmental diversity of Tufi also makes it a superb spot for wildlife watchers and twitchers. As you paddle your kayak in and out of the fjords, keep an eye and ear out for Birds of Paradise, Horn Bills, rare Black Palm Cockatoos and Eclectus Parrots.
For a Kayak adventure along the outskirts of some of PNG's most remote and magical islands, Southern Sea Adventures provides an epic 14-day tour aboard the vessel Spirit of the Enderby where 11 days are spent paddling on sturdy kayaks. The tour is renowned for offering an exceptional remote paddling experience where guests have the opportunity to experience jungle, smouldering volcanoes, beautiful coral reefs and exotic bird life. This journey begins in Madang and offers opportunities to kayak the mighty Sepik River, Bismarck Sea, Manus and Mussau Islands. The tour ventures eastward to Kavieng, Rabaul and the impressive coral atoll of Nissan Island. Professional kayaking guides accompany the tour, which only enhances the experience.
At Paga Hill Estate we feel that kayaking is the perfect way to explore the hidden treasures of PNG. There is perhaps no better way to explore the sandy coastlines, tropical waters and pristine coral reefs. Kayaking allows the paddler to control just how adventurous or leisurely the journey is, which is what makes it the perfect holiday for all ages. Kayaking tours are offered year-round, however, we recommend taking advantage of the calm seas that April through to November brings. For a holiday with a difference, Kayaking in PNG is the answer.
Paga Hill Estate is a world class master planned estate in the heart of Port Moresby, Papua New Guinea. The waterfront site is the first comprehensively planned multi-use development in Papua New Guinea to be enjoyed by both residents and visitors alike.
The all-inclusive development will include vibrant public spaces and waterfront promenade, luxury hotels, residential apartments, restaurants, retail, commercial space, a Trade, Exhibition & Cultural Centre, restoration of WWII relics, marina precinct and a nearby international cruise liner terminal.