Top Tips for Dining in Papua New Guinea
3rd March 2017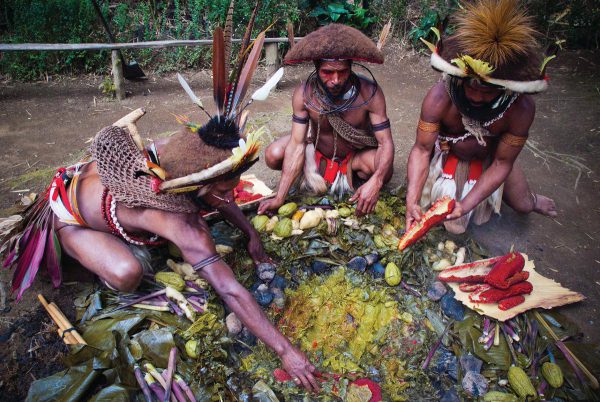 As a land full of mystery and exotic allure, Papua New Guinea often surprises visitors with its intriguing cuisine. We'll let you know what you can expect from the country's traditional menu of dishes, as well as some of the best hotspots for dining in the Capital: Port Moresby.
Traditional Papua New Guinea Food
Because the island was isolated for much of history, Papua New Guinea boasts a cuisine based largely on native foods. Mild, potato-like breadfruit ("ulu") is one of the staples of the Papua New Guinean diet. Other everyday ingredients include coconut, taro root, yams ("kau kau"), sweet potato, sago, rice, and a bounty of fruits. These foods grow abundantly in the tropical setting.
Though the traditional diet is mainly vegetarian, meats such as roasted pork, ocean-fresh fish, or even cooked weevil grubs can be found in Papuan cuisine. Much of the cooking is done in "mumus": earth ovens which are merely pits dug in the ground. The mumus are filled with hot stones, coals, and wood. Food is wrapped or placed upon palm leaves, which are then laid upon the stones to cook.
In Papua New Guinea, it's lunch that's typically the largest meal of the day. Lunch can be feast-like, consisting of many dishes and lasting for hours. Because of this, dinners are usually much smaller meals and are often just lunch leftovers.
Papua New Guinea Dining Etiquette
When dining in Papua New Guinea, keep in mind that tipping isn't customary and can be discouraged. Papuans believe that tipping creates jealousy between servers, so it's best avoided.
Table manners are usually casual. In fact, attitudes about dining are so casual that you can expect most locals to arrive at meals at least 10 to 15 minutes late. Most foods are eaten by hand unless you're in a formal restaurant.
Dining in Port Moresby
Also known as "Pom Town", Port Moresby is the capital city of Papua New Guinea. Thanks to the rich history of PNG, there's an eclectic array of eateries to be found in town. Typically, restaurants here will tend to offer Western and Asian food, and most can be found in the city's hotels.
Banz Kofi and Duffy Cafe offer excellent Papuan coffee and pastries. Places like The Cellar Restaurant, Mojo Social, Crowne Plaza, or the Airways Hotel will provide fine meals, great atmospheres, and in some cases, breathtaking views.
If you're looking for indigenous food, you'll have a hard time finding official establishments that specialise in it. Your best bet is perusing the makeshift food stands at the local outdoor markets, or, if you're lucky enough, getting an invitation to a home-cooked meal by a local family. Some of the guided trips to nearby villages also offer traditional meal options.
Travellers who take this more adventurous approach should keep an open mind. They'll encounter cooking methods and ingredients that may seem unusual, but are wonderfully exciting and emblematic of the island's unique culture.
However you choose to go about dining while on your trip to Papua New Guinea, you're certain to have an unforgettable experience!
Paga Hill Estate is a world class master planned estate in the heart of Port Moresby, Papua New Guinea. The waterfront site is the first comprehensively planned multi-use development in Papua New Guinea to be enjoyed by both residents and visitors alike. The all-inclusive development will include vibrant public spaces and waterfront promenade, luxury hotels, residential apartments, restaurants, retail, commercial space, a Trade, Exhibition & Cultural Centre, restoration of WWII relics, marina precinct and a nearby international cruise liner terminal.