Papua New Guinea's Ghosts: The Asaro Mudmen
16th February 2017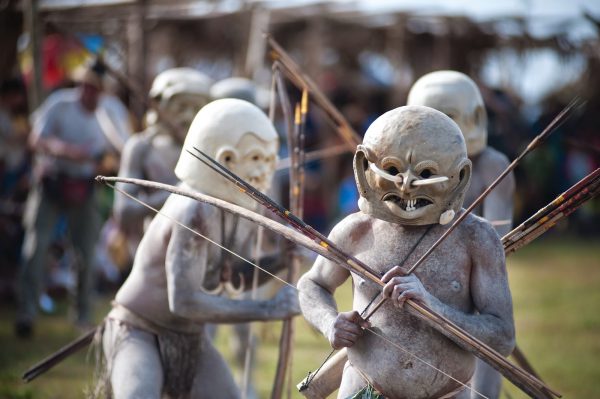 Deep in the Eastern Highlands of Papua New Guinea, it's not unusual to see ghostly forms creeping through the lush forest. Though they appear to be other-worldly spirits, these are in fact the legendary Asaro Mudmen.
Flesh and blood, these indigenous people have a rich tradition of costuming themselves as strange, even frightening beings. It's for their mysterious appearance and vibrant artistry that the Mudmen are now one of PNG's most celebrated attractions.
The Legend
It all started long ago when the Asaro were caught in the midst of a fierce tribal war. One battle ended badly for the Asaro, forcing them to take cover on the muddy banks of the Asaro river. The clay mud covered their entire bodies, drying to a shade of ghastly white.
The Asaro waited until dusk to make their escape. But what they didn't realise was that their enemies were still waiting nearby. When the Asaro arose in the misty light of dusk, bodies whitened by the dried mud, they looked like spirits awakened from another realm. Their superstitious enemies were so frightened by the sight that they ran for their lives, forfeiting the battle.
The effectiveness of this accidental costume was noticed. From then on, the Asaro embraced this image, using it to their advantage. They built on it, elongating their fingers with shoots of bamboo, and crafting eerie clay masks to be paired with their muddy body paint.
Thus was the birth of the Mudmen.
Today's Asaro Mudmen
Though the Mudmen still embrace their traditional way of life, many welcome the opportunity to share their culture with the outside world. Mudmen have taken part in Papua New Guinean festivals, as well as museum exhibits in Australia. Such events have included live shows of their ritual dances, as well as the crafting of their famous Asaro mud masks.
Visitors are also welcomed to the home villages of the Mudmen, where they can be accommodated in authentic Asaro lodgings. During these visits, tourists can watch the Mudmen perform many of their dances and ceremonies, including 24-hour events such as reenactments of bride-price negotiations. Tours of the villages, mountains, and ancestral Asaro sites are offered as well.
Those who wish to experience the tribal heritage of PNG will find the Asaro Mudmen to be the highlight of their visit. The ancient, wild character of the island is captured in the hearts of these enigmatic tribesmen, the ghosts of Papua New Guinea.
Paga Hill Estate is a world class master planned estate in the heart of Port Moresby, Papua New Guinea. The waterfront site is the first comprehensively planned multi-use development in Papua New Guinea to be enjoyed by both residents and visitors alike. The all-inclusive development will include vibrant public spaces and waterfront promenade, luxury hotels, residential apartments, restaurants, retail, commercial space, a Trade, Exhibition & Cultural Centre, restoration of WWII relics, marina precinct and a nearby international cruise liner terminal.