The Tagua Community Development Committee (CDC) has now been established with support from Paga Hill Development Company (PHDC) and Dame Carol Kidu's CK Consultancy. A total of ten committee members have been elected by the community, representing a wide range of Tagua family groups, and are empowered to achieve sustainable development outcomes for all residents.
Specifically, the CDC will strive to work with the community to identify and address concerns, as well as plan and initiate community projects and activities. Already the CDC are working hard to advocate and partner with services to meet community needs in terms of water supply, roads and civil works, as well as training programs provided by non-government organisations.
In addition to six committee members, the following office holders make up the community-elected committee:
David Peter – Chairman

Alex – Deputy Chair

Joyce Mamonda – Treasurer

Julie Konia – Secretary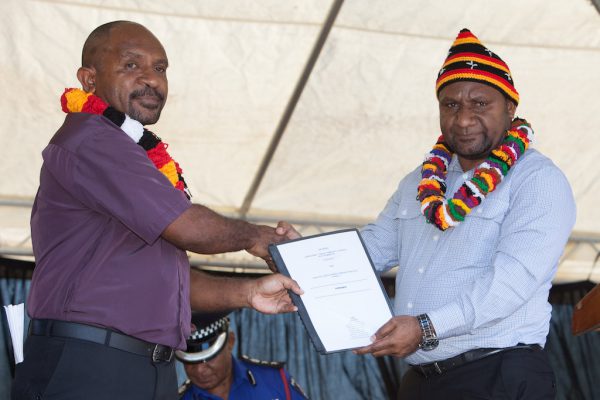 David Peter, Tagua Community Development Committee Chairman, receiving a land use agreement from PHDC at Tagua's official handover
On the 12th September 2014, the CDC had its first official meeting and on 1st October the committee played a major role in the planning and running of the Tagua and PHDC Resettlement Celebration. This event was a huge success attended by government and United Nations officials, as well as around 400 community people and families. The CDC's efforts included all aspects of cooking, organising children's activities, speeches, cultural dancers, singing of the national anthem and more.
Into the future the CDC plans to establish a number of sub-committees to lead initiatives in specific areas such as services and infrastructure, women, education, youth and sports.   The CDC will also take the lead in liaising with all government and non-government agencies in all matters relating to the development of Tagua community.
Congratulations to the Tagua community and CDC members, we wish you all the best for your ongoing success!