1st October 2014
Resettlement, even if voluntary, is never easy and it affects individuals and their families in various ways. Joyce Mamondo's candid and emotional account of how resettlement affected her and her family won first prize in the Short Story (Adult section) at the recent Tagua handover ceremony.
The team at Paga Hill Estate congratulates Joyce on an emotionally mature and heartfelt account, as well as for her active leadership role in making Tagua such a success.
Short Story (adult section)
by Joyce Mamondo

"The day my world fell apart"
It was Friday 30th May when my world fell apart.   I had never felt so low and let down in my life before.
I arrived home at 3pm to find my belongings everywhere on the ground outside the bedsitter which I had been renting from the National Housing Corporation for the last 23 years.  As I walked towards the door, I was barely missed by a missile of a plastic bag of clothes that landed at my feet.  I had been planning to give it away to my friends at the Salvation Army.  I could hear my distraught daughter say, "Oh mum, wait till the bulldozer has knocked down the house before you come home.  Please don't come in, you'll only be in the way.  Take a seat outside."
How I felt about the Eviction
On the way up home to Paga Hill in the office vehicle that day, the first thing I had noticed was all the trees that served as wind-breakers planted over the years had been cut down.  Policemen were everywhere, most of them armed.  I stood outside fighting back the tears, fear and self-pity were setting in and questions of where to go and what to do with my children were beginning to crowd my mind.  I had been praying about this moment but nothing prepared me for this, not even the experiences in life that led to my being a single parent.  I had seen it on TV, read it in the newspapers time and time again but I could not believe it was actually happening to me.  My disbelief stemmed from my trust in the judicial system and the fact that I was trusting in God.  I felt the feeling of numbness overtaking my whole body and could feel my heart pulsating in my ear drums.  Perspiration broke over my forehead.  I was hypertensive, but was on medication.
The first night saw my children and I huddled together both of them on the floor with curtains as covers whilst I slept on my bare queen sized bed which was yet to be removed.  The second night being Saturday 31st May saw my children and I prepared to sit with our backs against the wall and facing the door which was removed by now until dawn.  As it grew late into the night, it was pitch dark everywhere as electricity had been disconnected.  Opportunists were walking away with building material that were to be picked up the next day by private arrangement – the hire of vehicles for the purpose of removal of personal effects had ceased.  We realised then everyone had moved just as we were instructed by the Police.  Some neighbours returning for a final load of belongings informed us that all tents at 6 Mile were taken up, mostly by the bunkers.
What Next
I felt this emptiness, this voidness in my heart which could only be replaceable by a sense of belonging, being accepted or being loved.  What made me holistically as a person had now been taken away from me – a roof over my head, a home.  I kept on turning the thoughts over and over in my mind of the possibility of imposing on my relatives to be accommodated with my two grown children on their living room floors which were already crowed.  I thought of my food budget, I would be expected to be able to feed every single person in the house which would be about 10 people, including my children and I.  More importantly, I would have to wait until everyone was ready to sleep before I could lie down, myself.  The truth sank in; I would not have the freedom to do as I pleased in someone else's house.
Being preoccupied with these thoughts, I did not realise that God had answered my prayer for help.  My niece and her husband had pleaded with security to be allowed past the boom-gate to check on me that night.  They had driven all the way up in the dark.  That night, they drove my children and I around the city checking out affordable room rates at local lodges.
Rainbow Lodge became my temporary home for 2 months until I forcefully moved myself into a newly constructed canvas-enclosed room which had someone else's name written on it with a marking pen at the Relocation Site.  I travelled to Brisbane for a week on a work-related trip two days after moving my daughter into the campsite as my son was already living there with friends awaiting the allocation of a tent.
My return from Brisbane on the 26th July, saw me move into the 6 Mile Camp.  It was indeed a humbling experience because, by the grace of God, I had never before in my life experienced such a way of life.  I was forced to leave with people I had stigmatised, some of whom had no moral standards, no care attitude and no respect for others.
The first month saw me spend most of my time idly in my room out of everyone's way.  I could not read as or take work home as the lighting was very poor, my work output was very low or nothing at all.  The only light I had was outside my room which served as a security light.  I would, at every opportunity, relate to my work mates that whilst they woke up every morning to stand on a floor in this modern age and time; I woke up to stand on gravel and dirt.
One morning I decided that I would stop willowing in self-pity and make the most of where I was living.  I would now accept 6 Mile as being my new home, somewhere I would belong.  I also decided that I would not even stress over how I was going to build my house but, believe that because God took me there, he would see me through.  I took into consideration that there were other human beings, public servants for that matter, who were living in far worse conditions than I was, whilst I was living where I was for free.  I also considered most importantly, that there were people in the world who were suffering a lot more than I was.  I realised I had been judgmental and unforgiving in my attitude toward others and began to interact with the people I was now living with, greeting them, smiling, shaking a hand and hugging another mother the Highlands way, at every opportunity.
The overwhelming factor of my acceptance of where I was living now was what Paga Hill Development Company (PHDC) was doing.  I thought at length of the fact that this was the first of its kind where people who were squatters and after being evicted, were given a second chance in life.  This was never done before in the nation's capital and PHDC would be the envy of others.  PHDC had given an opportunity to this group of people, of which I was one, to be able to live in dignity with a free tent, water and electricity – basic necessities in life.  I realised that what PHDC was doing was good.  Moreover, where would I be, who would I turn to if not for this opportunity, taking into consideration the bureaucratic red-tape in acquiring another NHC rental property, the length of time and the high cost of rent in Port Moresby?  What PHDC was doing was truly a blessing in disguise.
It was only then that I felt this peace flooding my heart and mind, the kind of peace that results in peaceful sleep at nights.  I decided that 6 Mile was now my new home, it was all I had and I would make the most of it.  Because I believed nothing ever happens to anyone by chance, fate or luck, I know and believe God placed me there for a reason and that he would see me through.  I believe without a shadow of doubt that God answers prayers in many ways and uses people like those with PHDC and Carol Kidu Consultancy (CKC) for his will and purpose in life.
I would be doing an injustice if I ended my story without expressing my gratitude to PHDC, and especially CKC for a job well done.  I know the going was not smooth sailing and neither was it all good, but indeed it has a standard of its own and can be compared to none other in NCD.
As Papua New Guineans, we are a people of storytelling and this is one story that will be told to generations to come about how the people of the Tagua community came to be.
May God continue to bless PHDC and CK Consultants for what they had done for us their fellow human beings.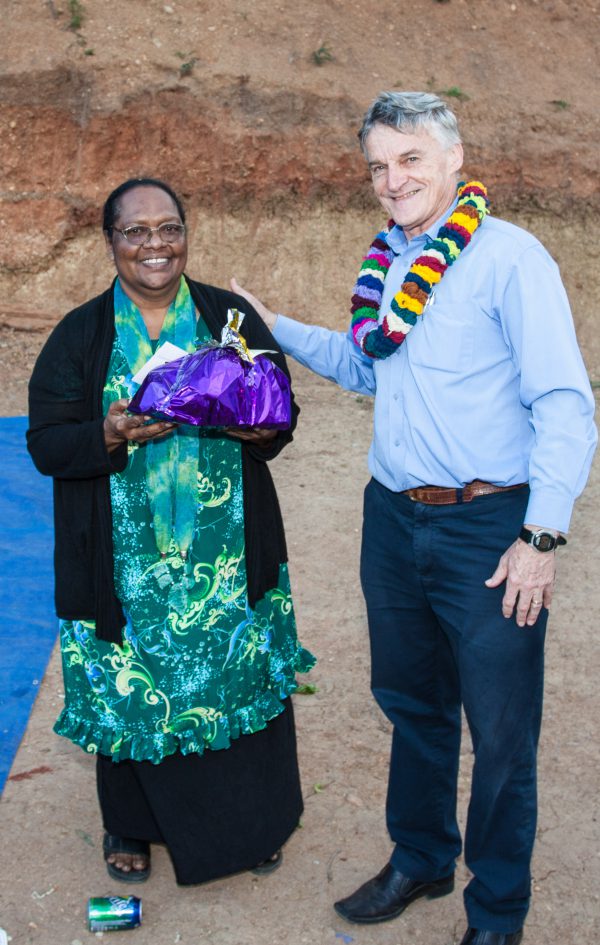 Joyce Mamondo with PHDC's Brian Gleeson